We use the state-of-art CCD cameras for all types of electronic surveillance. Our cost effective solution eliminates the use of any legacy systems like VCR, TV monitors, there by making our system a highly durable, secured and guaranteed system. We have integrated these cameras to be used with your ordinary computer. You can view, store or even monitor large amounts of images in a single click of your mouse.

Video Surveillance and Recording Software

This software was designed for professional and problem-free video surveillance. It offers you a wide choice of image sources \96 IP cams, Webcams, video capture cards and any other HTTP image source. The number is limited only by the capacity of your computer.

The interface is user-friendly, provides speedy access to the scenes stored and has integrated maskable motion detection. You can set up a whole surveillance system that allows access to remote cameras in the LAN or WAN by networking several computers running this software.

The software turns your PC into a video surveillance system that is comparable with any of the more expensive systems currently on the market. View your hall door, your warehouse or your summer home. You have instant access to the images, which means that you're always in the picture about what's happening in your absence.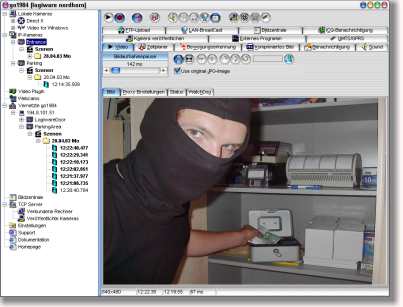 Key features:

- Support for IP Cams, Webcams, etc.
- Integrated motion detection
- Video source masking
- Live viewing in the image center
- Scheduler for automatic recording
- Variety of alarm options
- Remote viewer.

The program is easily installed in one minute , even by computer novices.

Click here to get more information